TOP 5 KID FRIENDLY RESTAURANTS
August 13th 2020 | By Dan Maczko
---
Sal Y Limon
701 Kingsway #5, Vancouver, BC
Chow down on authentic Mexican street food fare including tacos, burritos, tortas, quesadillas and taquitos while your wee ones let loose in the play area. The Kingsway Sal Y Limon location has a stage and play kitchen packed with toys for kids to enjoy. It's a rowdy and loud atmosphere, so if your children get a little raucous it's not going to bother anyone. Parents can enjoy a margarita, chilled Mexican cerveza or rumchata while the younger ones can wash down their food with an agua fresca, horchata, or selection of Mexican sodas.
Bells and Whistles
3296 Fraser St, Vancouver, BC
A fixture in the neighbourhood, kids are welcome in the "picnic" dining room side of Bells and Whistles, which is great for groups and families. There's ample stroller parking inside and the kids' menus are printed on colourable Origami square game sheets, so kiddos can fold it up for a fun game too. There are Hoop Hero and Skee-Ball arcade games and plenty of kid-approved tasty treats, including hot dogs, grilled cheese sandwiches, fish sticks, and ice cream sundaes. For parents, there's a selection of 19 beers on rotating taps.
R&B Brewing Ale and Pizza House
1-54 E 4th Ave, Vancouver, BC
There's something for all ages at this eclectic Mount Pleasant brewery. It's family-friendly, especially during the day (nighttime gets pretty shoulder-to-shoulder busy). Mom and dad can enjoy a craft beer sampler or a pint of R&B's signature brews, including the Dude Chilling Pale Ale and East Side Bitter. There's also wood-fired, thin-crusted Neopolitan-style pizza (try the mushroom), and for the kids, there are complimentary roasted marshmallows, served tableside. There's also a big toy bin and games, and in the summer, there's a narrow but sunny patio with turf green flooring, where the kids are nicely corralled behind the patio fencing.
Circus Play Cafe
1650 E 12th Ave, Vancouver, BC
As the name implies, this zoo cafe is where your wee one can really let loose. On the eatery side, grown-ups can enjoy strong coffee, in-house baked goods, as well as avocado toast, soups, and salads. For smaller people, there are all the above plus "tapas boxes" filled with all the things kids like to eat, like cheese and turkey rolls ups, mixed fruit salad, and healthy flatbreads and crackers. On the other side of the partition is a full on play gym filled with approximately a thousand things to keep kids busy. That includes, but is not limited to, dollhouses, a play kitchen with tubs of plastic foods, ride-on horses, slides, jungle gym, oversized blocks, play tables and activity/busy cubes. There is a $6-9 fee (age dependent) for two hours of play time.
Cafe Deux Soleils
2096 Commercial Dr, Vancouver, BC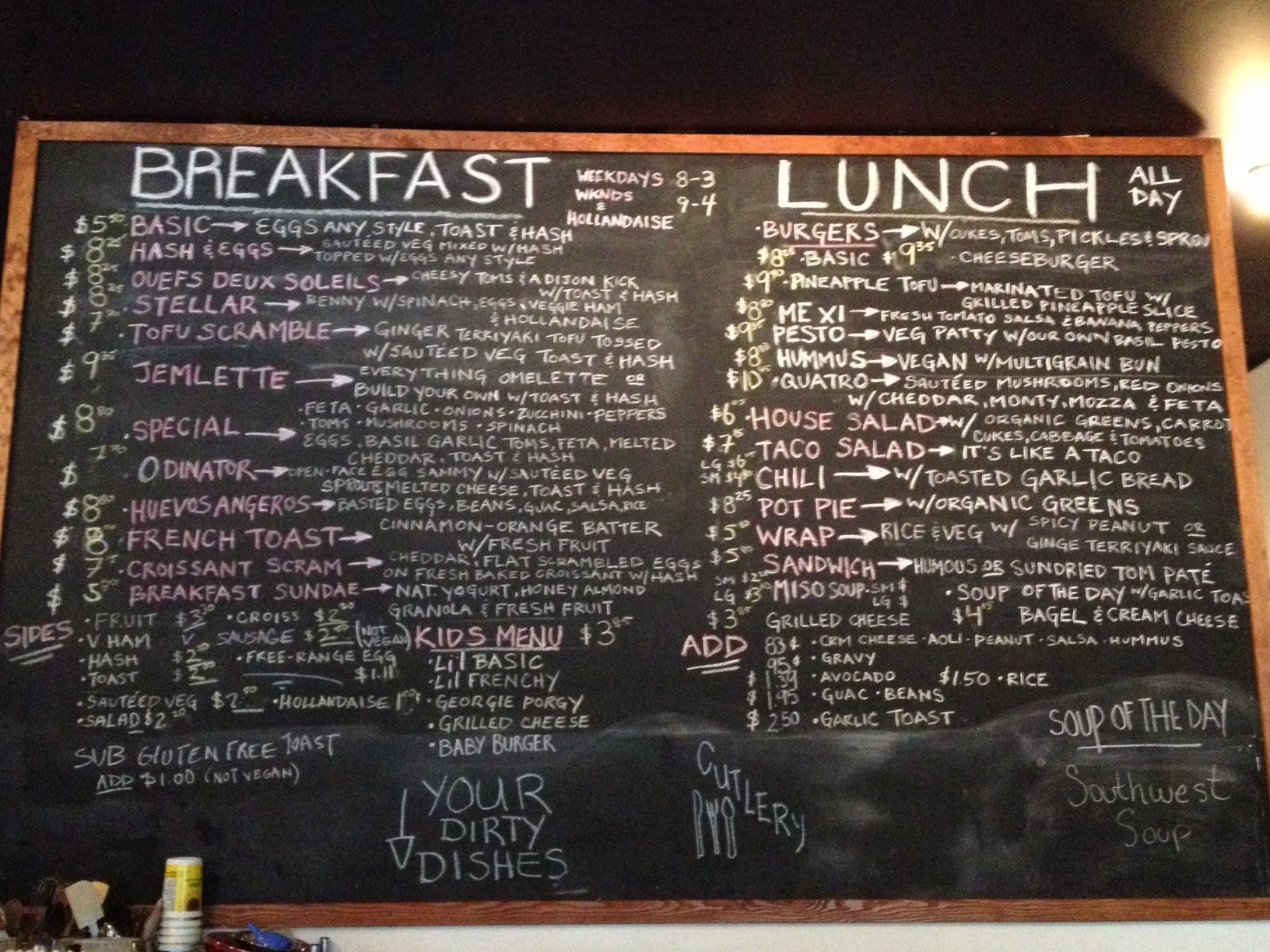 A longstanding fixture on Commercial Drive, Cafe Deux Soleils is a fam-jam friendly delight and welcomes play dates where parents can tip back a coffee or pint while kids play. It has a play area that doubles as a stage for evening events and features a giant chalkboard kids can doodle on. There's also toys, blocks, and books to keep kids busy. The menu features comfort food favourites like pot pies and perogies, and kids offerings include oatmeal and french toast at brunch time, plus grilled cheese sandwiches, baby burgers and quesadillas for lunch and dinner. The cafe is a bit rough and ready, but if anything that makes you less paranoid that your child is going to cause any damage.